Launching a Shopify dropshipping store is a great approach for many business owners to get started in the e-commerce sector. Here's why: keeping your inventory might be time-consuming and expensive, but with the dropshipping business model, you'll never have to stock any of the items you sell. You'll have more time and resources to devote to expanding your online store and generating more revenue.
The majority of the leading e-commerce systems, including Shopify, enable dropshipping as a flexible approach to running your business. We prepared this comprehensive Shopify dropshipping guide because we think that e-commerce entrepreneurs should have an easier time starting their businesses. Make use of it as your "dropshipping for dummies" starter manual.
And once you're ready to start dropshipping, follow our step-by-step guide to finding great products to sell online and building a Shopify store. It's super easy to follow, and in less than 50 minutes, you'll have a Shopify dropshipping store ready to make sales!
What is dropshipping?
Dropshipping is a business strategy that allows online merchants to sell goods without keeping any inventory. The supplier has merely contacted after a consumer places an order, and the products are subsequently delivered right to the customer's door. You can expand your product assortment by adding items from other suppliers using dropshipping apps like DSers.
The ideal business concept for beginning e-commerce entrepreneurs is dropshipping. It's easy to set up and administer, and there are no significant upfront costs. You don't have to leave your job to launch a prosperous store; you can manage your dropshipping business in your spare time. Additionally, you can use a number of dropshipping methods to increase traffic to your site.
What is Shopify?
The top e-commerce platform, Shopify, enables business owners to launch their own online businesses. Even if you lack technical expertise, you can still create your own store with Shopify because of how easy it is to use. It's also ideal for business owners who want to start their own drop shipping operation. You'll get access to a wide range of marketing and dropshipping options on Shopify's platform.
How does Shopify work?
Shopify essentially serves as the framework for your online store. It is an e-commerce platform that offers business owners the framework they require to launch and design their store, and its back end enables you to operate your enterprise without paying any hosting expenses. Your e-commerce store will operate without a hitch when you pay Shopify's reasonable monthly fees. Shopify will then take care of maintaining your store while you concentrate on generating sales and growing your business. The same regulations that apply to standard Shopify businesses also apply to Shopify dropshipping stores; you just need to download the DSers app to find products.
Why consider dropshipping on Shopify?
Dropshipping is the ideal business model for entrepreneurs wishing to launch their own company with a low initial outlay, and Shopify is the most user-friendly platform for building and managing your store.
When you dropship on Shopify, you'll never have to worry about having too much inventory because you'll only ever order what you need to satisfy client demand. This technique differs from a normal online store, which either manufactures its products or buys them in bulk from wholesalers.
Another benefit of using Shopify for dropshipping is that you can easily manage your inventory if you're planning to use it with DSers.
Is Shopify dropshipping really profitable?
Yes, Shopify dropshipping can be beneficial for retailers since you are not in charge of production or delivery. With the appropriate suppliers, you may generate a good, steady profit without racking up significant expenses the way a wholesaler would.
How much can you make as a dropshipper (Shopify dropshipping)?
Most dropshippers make between $1,000 and $10,000 per month on average, but when you first start out in the e-commerce industry, you'll definitely make less. You must establish the proper profit margins and build a strong brand if your goal is to run a viable dropshipping business that generates at least $1,000 per month.
Is Shopify dropshipping legal?
Yes, dropshipping through a Shopify store is completely legal. You must exercise caution when selecting your suppliers, though, as some of them may be infringing on the intellectual property of other businesses. While dropshipping on Shopify, you shouldn't run into any legal issues as long as your suppliers perform professionally.
Where to find a Shopify dropshipping business for sale
You can purchase an existing dropshipping company from Shopify's Exchange website if you don't want to start one from scratch. Exchange is simply a market area where business owners may sell their online stores to potential customers.
Through Exchange, you can view critical information for any potential dropshipping business, such as traffic and revenue statistics. Once you're satisfied with the details, you may use the messaging system offered to Exchange visitors to get in touch with the seller right from within the ad. You are probably able to locate anything you like among the nearly 9,000 e-commerce stores that are now for sale.
7 Steps to Start Dropshipping on Shopify
We'll walk you through each step required to set up your own e-commerce store in this section of our Shopify dropshipping guide. In conclusion, you'll have a fully operational Shopify dropshipping store that you can use to start making money right away. We'll give you our best advice for each stage you go through. The steps to opening a dropshipping store on Shopify are listed below.
1. Choose a store name (Shopify Dropshipping)
You will start by doing this in order to launch your Shopify dropshipping store. To come up with a name for your internet store, use these suggestions:
Simple is best.
Be innovative
Make it distinct.
It's simple to come up with original name suggestions on Shopify for your dropshipping business. Simply type any term you want your company name to contain into Shopify's online business name generator and click "Generate names."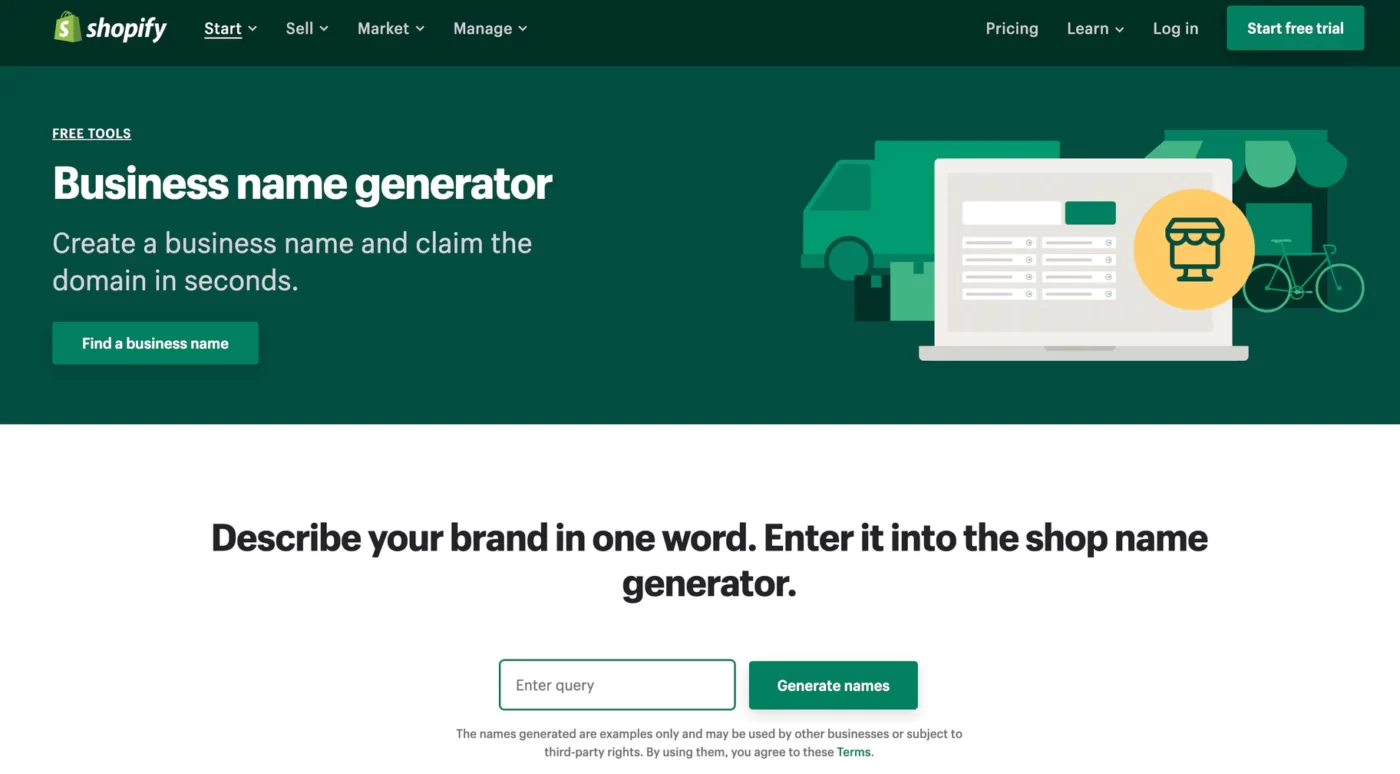 You can choose your favorite from a choice of company names to be the name of your Shopify dropshipping store. It will not only save you a ton of time, but using it is also totally free.
Once you've thought of a few names for your Shopify dropshipping store, you need to see what is already taken. It's certainly already in use if you've thought of a name like "American Clothing Store." By using Google search to discover if the name already has a.com domain attached, you can verify this.
2. Create a Shopify account (Shopify Dropshipping)
It's easy and quick to create an account for your Shopify dropshipping store. You must first go to Shopify's main page and select "Start free trial."

On the following screen, fill in the blank field with your email address. You'll be required to enter the name you've chosen for your Shopify dropshipping store and to create a password for your account.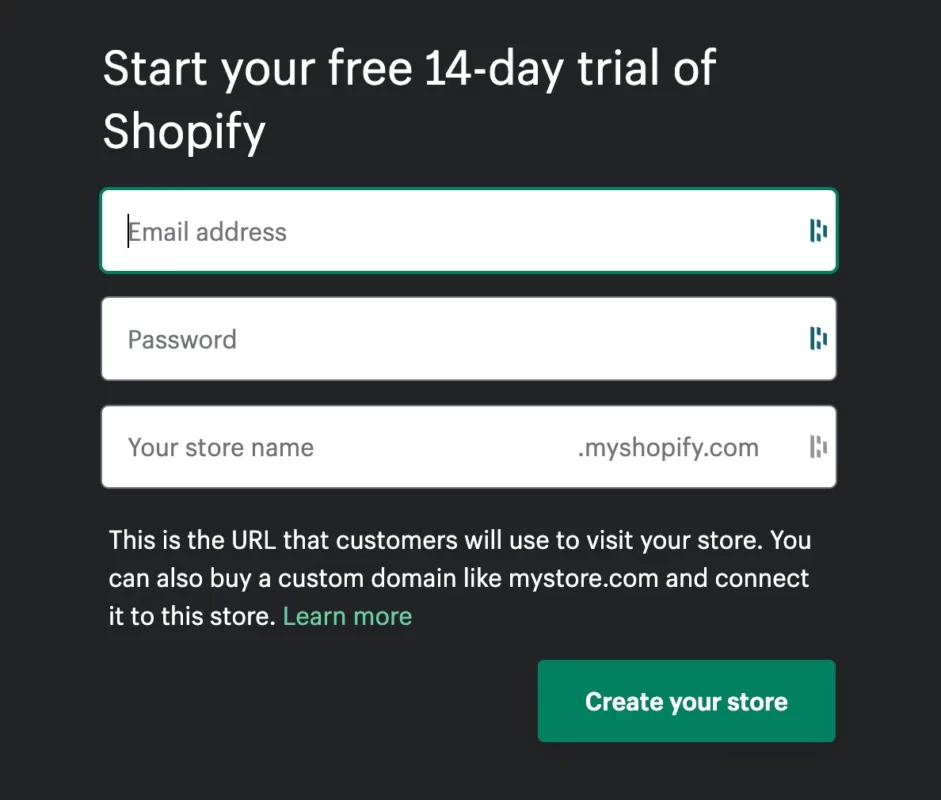 The following step involves answering a few questions about your e-commerce experience and providing some basic personal information.
Your Shopify account will be operational once you've finished. The options for starting your Shopify dropshipping account must then be configured.
3. Optimize your settings (Shopify Dropshipping)
We'll go over your freshly created Shopify account's settings in this section of our Shopify dropshipping guide. This phase is crucial for getting your business ready to accept payments from clients, putting up your store policies, and figuring out your shipping costs.
Payment information
Setting up payments for your Shopify dropshipping store is the first thing you must do. This is an essential step since without adding a payment option, you won't be able to accept payments from clients.
You must go to Shopify's Settings page in order to add payment information. Simply add your payment details by choosing the Payments option from the left.
You should add a PayPal account here, as we advise. Even if you lack technical expertise, you can easily create an account if you don't already have one in a matter of minutes. (You may read more about PayPal and other payment providers in our post.)
Store policies
Make sure you've developed the essential shop policies before opening your very own Shopify dropshipping store. With the help of a number of useful tools, Shopify can automatically create uniform terms and conditions, refund policies, and privacy policies for your store.
These tools are available through Shopify's settings. To discover the necessary fields, select the Checkout tab and scroll to the bottom.
Click on the Generate button, and you're good to go.
Shipping rates
It's crucial that the delivery costs on your Shopify dropshipping store be transparent. We advise you to always provide free shipping as it is the most convenient choice. It can be confusing if you have different shipping costs for different countries, so just include your delivery costs in the price of your products and make shipping free.
If you were going to sell a t-shirt for $20, for instance, increase the price to $25 and include free shipping. You can promote your Shopify dropshipping store to attract customers by using the phrase "FREE SHIPPING!"
By going to the Shipping tab in your Shopify settings, you can configure free shipping for your store.
In the Rest of the World section, substitute "Free International Shipping" for all domestic shipping zones. You're all set after choosing Rate: Free Shipping Rate.
4. Launch your Shopify dropshipping store (Shopify Dropshipping)
All the information you require to start your Shopify dropshipping store has now been added.
Simply navigate to the Sales Channels tab on your Shopify admin dashboard to open your store. Then, choose "Add an online store" from the menu.
You'll have an operational web store once you've completed this stage!
5. Work on your store's design (Shopify Dropshipping)
We'll discuss the value of design for your ecommerce store and highlight some important factors for you to take into consideration in this section of our Shopify dropshipping guide. Your Shopify dropshipping store's design will be crucial because it will determine how your brand and store are presented.
Just as vital as a brick-and-mortar store having an attractive shop front is having an appealing online store. First impressions matter since this is how a user will perceive your company. Don't forget to have a look at these simple ecommerce store design tips to boost your sales.
There are two key elements you should think about while developing a Shopify dropshipping store: your theme and your logo.
Picking a theme on Shopify
There is a theme store on Shopify where you may get a huge selection of themes. There are both free and expensive alternatives available. Look around and choose the ideal theme for your store based on your financial capabilities; if you're just starting out, we'd suggest going with a free theme.
We comprehend that determining which theme to use might be difficult. We've created a post to make it simpler for you to choose the best solution for your Shopify dropshipping store. It addresses issues like what to think about when choosing a theme, information on free Shopify themes, how to modify Shopify themes, and much more.
Creating a logo for your store
Your Shopify dropshipping store's logo will make it easier for customers to recall your company. Spend some time thinking about how you want your logo to appear and how it will blend in with the overall design of your store.
It may sound difficult and time-consuming to create a logo. But with Shopify's free online logo creator, you can create your ideal logo in a matter of seconds. You may create the ideal logo for your brand by experimenting with fonts, colors, icons, and positioning.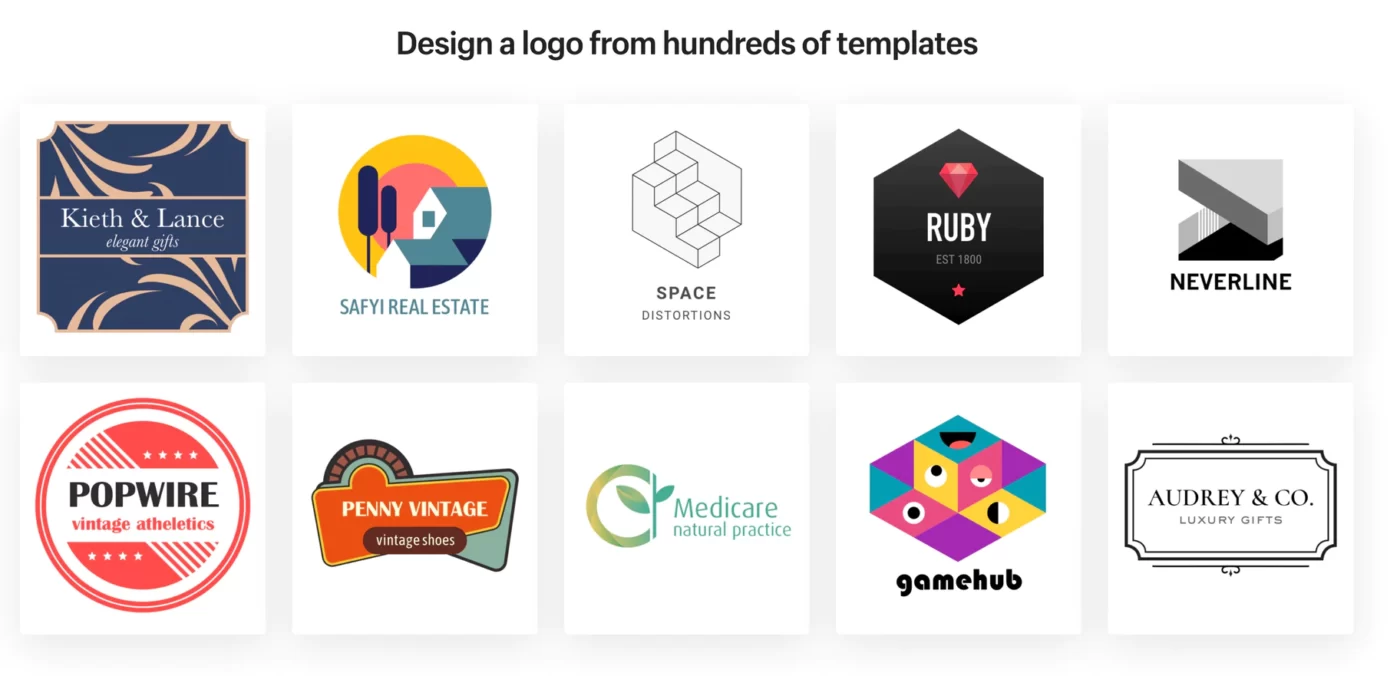 Use graphic design programs like Photoshop or Canva to create your own logo if you're interested. High-quality graphic designs can also be outsourced at a reasonable cost from freelance marketplaces like Upwork or Fiverr.
Your store will start to take shape once you have decided on a theme and a logo. Check out the incredible designs of these e-commerce websites we've prepared for you if you need more inspiration.
6. Dropship on Shopify with DSers (Shopify Dropshipping)
You'll need to start adding products to your Shopify dropshipping business once you've worked out the design in order to start making money.
Installing the DSers app, one of the greatest Shopify tools for e-commerce business owners who wish to import dropshipped products to their store, will enable you to add products that you can dropship. Since AliExpress and DSers are perfectly connected, you can begin importing and selling goods on the first day.
You must add a category to your Shopify store after installing DSers with Shopify. Give this category a name based on the kind of goods you'll be selling. Simply call this category "T-shirts" if you're beginning an online t-shirt business.
Visit our list of unusual dropshipping products if you need product inspiration. Also, be sure to look there if you're interested in learning how to pick the goods you want to sell.
Once the DSers have been installed, you may use the app to look for AliExpress items that you're thinking about selling. Any products you want to sell can be imported into your Shopify dropshipping store by clicking the Import button.
7. Make your first sale (Shopify Dropshipping)
It's now time for your Shopify dropshipping store to start generating revenue. Since it's unlikely that you'll attract a lot of traffic by simply opening your store, we advise using marketing strategies to entice potential clients.
Look at the numerous marketing avenues that are accessible and conduct some research to see which one will be most effective in bringing customers to your Shopify dropshipping store. Try out some campaigns if you think you'll succeed with Facebook advertising. Go ahead and give TikTok or Instagram a go if you want to. The most crucial step is to continue testing. Which marketing tactics are most effective for your e-commerce business will soon become clear.
Over To You
Your own Shopify dropshipping store is now yours. Congratulations!
Even though we've covered a lot in this Shopify dropshipping guide, you'll learn even more when you start working for yourself and managing your own company. It's time to start making sales and earning money from your internet store because there is no cap to how much you may earn from it. Dropshipping things online is no longer difficult thanks to Shopify and other third-party platforms.